Welcome to Good Shepherd Lutheran Academy!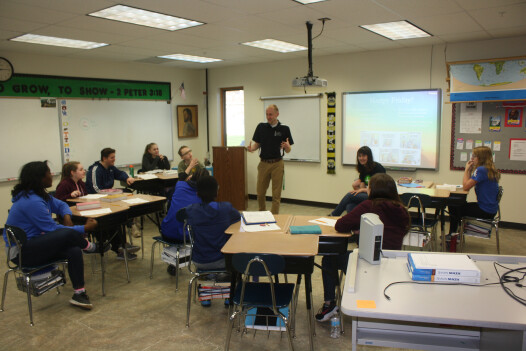 Since 1979, Good Shepherd Lutheran Academy (GSLA) has been proudly serving Downers Grove and surrounding communities. GSLA's mission leads students to KNOW Jesus as their Savior, GROW spiritually, intellectually, emotionally, and socially, and SHOW Jesus and their gifts to others. We are a nationally accredited K5 - 8 institution through Wisconsin Evangelical Lutheran Synod School Accreditation (WELSSA) and the National Council on Private School Education (NCPSE). GSLA is a member of the Wisconsin Evangelical Lutheran Synod (WELS). The WELS school system is the 4th largest private/parochial school system in the country.
GSLA is divided into seven classrooms: K3, K4, K5, Grades 1-2, Grades 3-4, Grades 5-6 and Grades 7-8. This arrangement allows students to receive a multi-grade/age approach to learning. You can find more information about multi-grade classrooms here. Each teacher holds an undergraduate degree and state license in education. Our student-to-teacher ratio is 10:1 which allows for individualized instruction.
At GSLA, our primary focus is to educate children by instructing them in God's Word. All our subjects are taught from a scriptural viewpoint. We have daily devotions and Bible History lessons built into our curriculum. We are not only training children for their academic futures, but we are also training children for their eternal future. We offer a very competitive curriculum relative to the surrounding public and private schools. For working families, we offer Before and After School Care. Please find more information about our Before and After School Care here.
We hope you will join our family!